Latent Fingerprints Section
Latent Fingerprints Section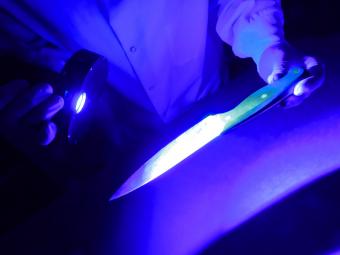 The Latent Print Section consists of a Section Supervisor and two Forensic Scientists. The new facility contains three fully equipped and fully functional mini laboratories for processing latent print evidence, allowing all three analysts to work simultaneously.
The Latent Print Section processes porous and non-porous items of evidence for presence of friction ridge detail. Porous items (paper, cardboard, raw wood, etc.) are most commonly processed with Ninhydrin, Aqueous Ninhydrin or with Physical Developer.
Non-porous items (glass, plastic, Plexiglas, metal, etc.) are processed first by superglue fuming, and then by using fingerprint powders and/or fluorescent dyes. The items are further examined under the ALS (Alternate Light Source), or with RUVIS (Reflective Ultra Violet Imaging System), and/or FSIS (Full Spectrum Imaging System).
Both RUVIS and FSIS also allow for examination of evidence without prior superglue fuming, fingerprint powdering or chemical processing. However, the surface of items suitable for RUVIS and FSIS examination has to be non-porous and free of texture, in order to provide proper reflectiveness. Both devices are non-destructive to the items of evidence and the capability is extremely beneficial in examining items of high monetary or sentimental value (electronics, antiques, collectibles, heirlooms, etc.).
Other items that can be submitted for latent processing and analysis include:
Sticky side tape (duct tape, electric tape, scotch tape, packing tape, etc. Both sides can be processed)
Gloves (latex, nitrile, rubber)
Bullet casings (with exception of .22cal)
Impressions in blood, paint, or other substances
Digital images containing friction ridge detail (TIFF format)
Any latent impression deemed to contain sufficient quality and quantity of friction ridge detail for comparison purposes is photographed using a digital SLR camera. Digital images are further processed in Adobe Photoshop CS6 for best ridge detail.
Any latent impression determined to be Of Value for comparison purposes is submitted for search of the Nebraska AFIS database, and/or of the FBI's NGI database.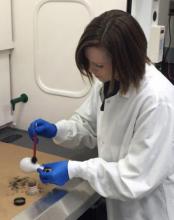 AFIS - Automated Fingerprint Identification System is a Nebraska state fingerprint and palm print system maintained by the Nebraska State Patrol Criminal Identification Division. The Nebraska AFIS contains both known and unknown impressions:

The LCF database containing known records is comprised of fingerprints, palms prints and mug shots, and it contains 629,768 known fingerprint records with 1,128,757 incidents. New records are being added daily to the LCF database, and are automatically searched against all known and unknown impressions already in the database.
The ULF database contains 14,857 latent impressions that are being added by five agencies in possession of latent workstations. Latents users have a capability of searching both latent fingerprints and latent palm prints.
(Database information as of February, 2016).
NGI – Next Generation Identification (formerly known as IAFIS - Integrated Automated Fingerprint Identification System) is a national fingerprint and criminal history system maintained by the Federal Bureau of Investigation (FBI), Criminal Justice Information Services (CJIS) Division. The FBI's NGI is the largest biometric database in the world, containing not only fingerprints and palm prints and corresponding criminal histories for more than 70 million subjects, but also containing mug shots, scars, tattoo photos, and as of recently it is also accepting iris images. These records are voluntarily submitted by state, local, and federal law enforcement agencies to the NGI database.
Both Systems provide automated fingerprint search capabilities, latent searching capability, electronic image storage, and electronic exchange of fingerprints and responses 24 hours a day, 365 days a year.