Crime Laboratory
Crime Laboratory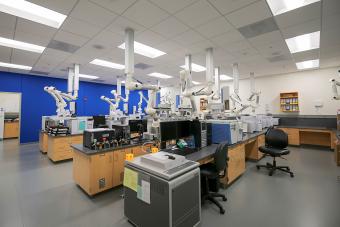 *SEE NEW EVIDENCE SUBMITTAL FORM
Mission Statement:
The mission of the Crime Laboratory Division is to provide quality and timely forensic science services to the State of Nebraska.
_______________________________________
The Nebraska State Patrol Crime Laboratory is a full service forensic laboratory located in Lincoln. The Crime Laboratory Division was established by Nebraska State Statute in 1971 and became operational in July of 1973. The legislative mandate under Nebraska State Statute 81-2010 is to "...perform services necessary for the recognition and proper preservation, identification, and scientific analysis of evidence materials pertaining to the investigation of crimes." Key functions carried out by the Crime Laboratory in support of that mandate are listed in our Mission Statement (below). The Division is entirely government funded and serves all local, county, state, federal and military law enforcement agencies in Nebraska.
The Crime Laboratory has an authorized staff of 26 and analyzes approximately 5,000 cases per year. The Crime Laboratory currently includes the following analysis areas: Drug Chemistry, Latent Fingerprints, Biology/DNA, Trace Chemistry, Toxicology, and Firearms and Tool Marks. Follow the links in the right margin for more information on these areas.
The Crime Laboratory is accredited by ANSI-ASQ National Accreditation Board. ANAB accreditation is nationally recognized achievement for forensic laboratories. The accreditation process includes the evaluation of the lab against standards covering every area of the lab's operation including analytical procedures, evidence handling, security, safety, proficiency testing, testimony, and facilities. The Crime Laboratory's Scope of Accreditation lists the Fields and Categories of Testing that the laboratory is able to provide for its customers.

To contact the crime lab: Email NSP.CrimeLab@Nebraska.gov or call (402) 471-8950.
Key functions carried out by the Crime Laboratory in support of this mission include:
To properly receive, record, retain and return physical evidence submitted to the laboratory;
To provide timely, effective and impartial forensic analysis in support of law enforcement activities;
To provide expert testimony in courts of law;
To provide instruction to law enforcement personnel and other members of the criminal justice system in the areas of collection and preservation of physical evidence, as well as the capabilities of the laboratory;
To implement health, safety and environmental laws and regulations, as well as laboratory security requirements;
To provide educational information and support to individuals and agencies who request our help in exploring or developing forensic science as a profession;
To adhere to a quality assurance system that ensures that the final product generated by the laboratory is of the highest quality possible while meeting the needs of the criminal justice community.
Related forensic education and career information can be found at the following web sites:
ANSI-ASQ National Accreditation Board
American Academy of Forensic Science
American Society of Crime Laboratory Directors
Midwestern Association of Forensic Scientists
Federal Bureau of Investigation
Reddy's Forensic Science Home Page
Crime and Clues
Crime Scene Investigation