State Patrol Begins 61st Basic Recruit Camp
State Patrol Begins 61st Basic Recruit Camp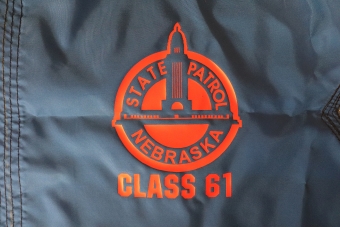 State Patrol Begins 61st Basic Recruit Camp
July 8, 2019 (Grand Island, Neb.) — Eleven recruits have begun the journey to become State Troopers as the Nebraska State Patrol (NSP) has started the 61st Basic Recruit Camp.
"These recruits have taken the first step toward a tremendous and rewarding career," said Colonel John Bolduc, Superintendent of the Nebraska State Patrol. "Over the next six months, our Training Academy Troopers will equip them with the skills necessary to serve Nebraska effectively for many years."
Camp 61 includes eleven recruits hailing from Nebraska, Kansas, Florida, and Michigan.
Ryan Arbogast – Goehner, NE Schuyler Sauser – Plainview, NE
Travis Bacon – Stockton, KS Ty Schoenefeld – Lincoln, NE
Nathan Brown – Omaha, NE Steven Sosnowski – Newaygo, MI
Tristen Jackson – Kearney, NE Amy Thompson – Omaha, NE
Nathan Knudson – Omaha, NE Jamie Thompson – Omaha, NE
Christopher Moore – Fort Myers, FL
"These recruits were selected out of around 180 applicants," said Captain Jeff Roby, Commander of the NSP Training Academy. "They've shown integrity in how they have lived their lives up to this point. That integrity will be the building block to becoming a successful trooper."
Camp 61 is the second of two training camps NSP is holding in 2019, marking the implementation of a new training cycle that will allow for continuous recruiting efforts. These recruits will complete 22 weeks of training and graduate on December 20. Camp 61 also marks the first time in NSP history that a married couple has attended basic recruit camp. Jamie and Amy Thompson both come to NSP with several years of experience in the U.S. Air Force.
The next NSP training camp, Camp 62, will begin in January. Applications are now being accepted for Camp 62, by visiting the Become A Trooper page on the NSP website.
###