NSP Captain Scott Graduates from FBI National Academy
NSP Captain Scott Graduates from FBI National Academy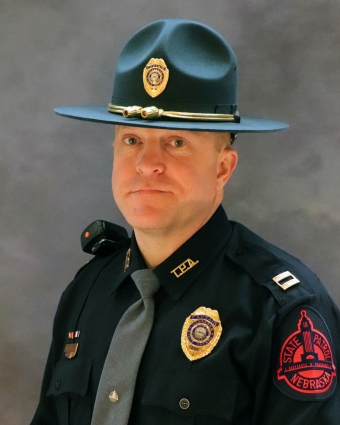 Nebraska State Patrol Captain Jason Scott graduated from the 277th Class of the FBI's National Academy on Friday, September 13, during a ceremony in Quantico, Virginia. Scott is part of a class of 255 students, from 35 countries, that completed 10 weeks of study as part of the FBI National Academy. Captain Scott received his diploma from FBI Director Christopher Wray.
"The FBI National Academy provides a wealth of knowledge in many areas of law enforcement leadership," said Colonel John Bolduc, Superintendent of the Nebraska State Patrol. "This experience and training will be invaluable to Captain Scott as he continues to lead Troop A."
Captain Scott has been with NSP for 20 years and currently serves as commander of Troop A, based in Omaha. Throughout his career with NSP, Scott has worked in a variety of areas, including Investigative Services, Patrol, Commercial Vehicle Enforcement, SWAT, Police Service Dog Division, and the Commercial Interdiction Unit.
"This has been a tremendous experience," said Captain Scott. "The partnerships we develop at the FBI National Academy and instruction we receive are incredible. I look forward to bringing that knowledge back to Nebraska, as well as utilizing my new network of professional contacts."
Participants in the National Academy are leaders and managers of state, local, county, tribal, military, federal, and international law enforcement agencies. Participation is by invitation only, through a nomination process, and participants are drawn from every U.S. state and territory, as well as from international partner nations.
The FBI National Academy offers courses of study in Criminal Law, Behavioral Science, Forensic Science, Understanding Terrorism/Terrorist Mindsets, Leadership, Communication, and Health/Fitness. Officers from around the world participate in a wide range of leadership and specialized training. Participants share ideas, techniques, and experiences with each other, creating lifelong partnerships that will benefit law enforcement agencies all over the world.
###