Investigators Find Heroin Strapped to Man's Torso
Investigators Find Heroin Strapped to Man's Torso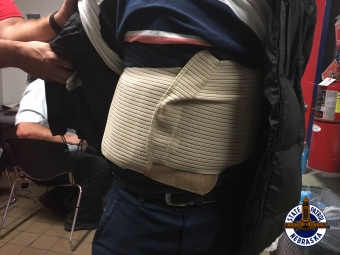 Investigators with the Nebraska State Patrol and Douglas County Sheriff's Office joint Criminal Interdiction Unit (CIU) have arrested one man and seized 11 pounds of heroin during an encounter in Omaha.
CIU Investigators had contact with the suspect at a commercial transportation facility in Omaha on Monday, July 2, when they become suspicious of criminal activity. A search of the suspect's suitcase resulted in the discovery of multiple bundles of heroin. Investigators then found additional bundles of heroin strapped to the suspect's torso.
The total weight of the heroin was 11 pounds, carrying an estimated street value of $250,000.
Christian Molina, 25, of El Paso, Texas, was arrested for possession of a controlled substance, possession with intent to deliver, and no Drug Tax stamp. He was lodged in Douglas County Jail.
###