Busy Weekend for Nebraska State Troopers
Busy Weekend for Nebraska State Troopers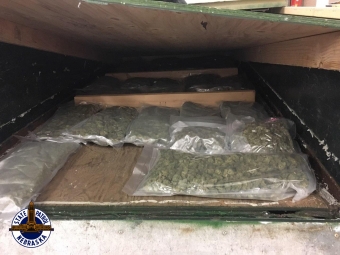 Troopers with the Nebraska State Patrol had a busy weekend involving a pursuit, multiple drug arrests, and more than 100 motorist assists.
On Friday at approximately 6:15 p.m., a trooper observed a 1985 Ford pickup fail to signal a turn after exiting Interstate 80 at the Giltner interchange. During the traffic stop an NSP K9 detected the odor of a controlled substance coming from the vehicle. Troopers searched the vehicle and discovered 20 pounds of marijuana hidden under a false floor in the bed of the pickup.
The driver, Benjamin Howell, 25, of McKinleyville, California, was arrested for possession with intent to deliver and no drug tax stamp. Howell was lodged in Hamilton County Jail.
On Saturday at approximately 1:20 p.m., a trooper stopped a 2007 Hyundai Entourage for speeding near mile marker 426 on I-80. During the traffic stop, the trooper determined that the driver was under the influence of drugs. The driver, Jerome Harlston, 55, of Lincoln, also had 49 grams of cocaine in his pocket.
Harlston was arrested for driving under the influence of drugs and possession of a controlled substance with intent to deliver. There were two juveniles in the vehicle with Harlston at the time of the stop and were returned to their home. Harlston was lodged in Cass County Jail.
On Sunday at approximately 12:30 p.m., NSP received a report of a westbound, gray pickup passing vehicles on the shoulder of I-80. While a trooper was assisting another driver near mile marker 316, the suspect vehicle passed and failed to move over. The trooper initiated a pursuit.
The vehicle reached 115 miles per hour while it continued passing vehicles on the shoulder. Troopers successfully deployed spike strips to bring the pickup to a stop near mile marker 286. The driver, Joseph McGregor, 35, of Omaha, was arrested for willful reckless driving and flight to avoid arrest. McGregor was lodged in Hall County Jail.
As snow blanketed much of the state this weekend, troopers were also busy on the roads responding to crashes and drivers in need of assistance. Troopers performed nearly 125 motorist assists during the snowfall on Saturday.
###