21 NSP Leaders Graduate from Northwestern Command School
21 NSP Leaders Graduate from Northwestern Command School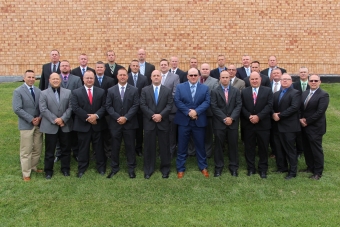 Nearly two-dozen leaders from within the Nebraska State Patrol (NSP) have completed a law enforcement leadership program designed to equip officers with new leadership skills and train them for future leadership positions.
Twenty-one NSP leaders, ranging in rank from sergeant to captain, graduated Friday from the Northwestern University Center for Public Safety of Police Staff and Command. The program lasted ten weeks and was hosted by NSP at the Nebraska Law Enforcement Training Center in Grand Island. The graduation ceremony was held Friday at the Bosselman Convention Center at Fonner Park in Grand Island.
"This is an exceptional day for the Nebraska State Patrol," said Colonel John Bolduc, Superintendent of the NSP. "All of these graduates are already leaders within our agency. Command school has given them new skills they will utilize in their current positions and equip them to be the leaders of NSP's future."
The Northwestern Command School graduates from NSP include:
Lt. Tim Arnold Lt. Arthur Frerichs Sgt. Ryan Phinney
Lt. Jon Beckstead Sgt. Lee Jacobsen Capt. Jeff Roby
Lt. James Bills Lt. Eric Jones Lt. James Stover
Lt. Brent Bockstadter Sgt. Trinity Jones Sgt. Cory Townsend
Capt. Martin Denton Lt. Monty Lovelace Lt. Kurt vonRentzell
Lt. Brian Eads Capt. Jeromy McCoy Sgt. Bradley Wagner
Lt. Andrew Ecklund Sgt. Greg Miller Lt. Jeff Wilcynski
Those 21 join many past and present commanders of NSP who are graduates of the Northwestern Command School. Commanders from six other agencies also graduated from the program on Friday, which began on August 20. Sgt. Jacobsen was awarded the Franklin M. Kreml Leadership award, which is determined by a vote of the class members.
###