16 Impaired Drivers Arrested in Thanksgiving Click It or Ticket Effort
16 Impaired Drivers Arrested in Thanksgiving Click It or Ticket Effort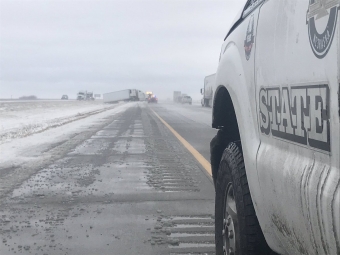 Nebraska State Troopers removed 16 impaired drivers from the road, issued more than 500 speeding citations, and assisted hundreds of motorists during a special Click It or Ticket enforcement surrounding the Thanksgiving weekend.
The enforcement, which was part of a national effort, including many other law enforcement agencies in Nebraska, was made possible thanks in part to a grant for $20,000 from the Nebraska Department of Transportation - Highway Safety Office.
"A projected record numbers of travelers, along with a winter storm that blanketed much of the state on Sunday, made for an eventful weekend for our troopers," said Colonel John Bolduc, Superintendent of the Nebraska State Patrol. "I'm incredibly proud of the effort by our troopers and dispatchers this weekend, and thankful that many drivers planned ahead and were able to stay off the roads on Sunday."
During the enforcement, which ran from Wednesday, November 21 through Sunday, November 25, troopers arrested 15 people for driving under the influence of alcohol and 1 for driving under the influence of drugs. In addition to those arrests, troopers issued citations for speeding (506), driving under suspension (35), no proof of insurance (33), minor in possession (5), open container (7), no seat belt (30), and improper child restraint (4).
Troopers also assisted 267 motorists in need of help, arrested 47 people for possession of drugs, and apprehended 9 fugitives.
The enforcement included vehicle checks, high visibility and saturation patrols, as well as regular enforcement efforts.
###